3.16.2006
posted by Donovan at 10:51 PM
In the fast-emerging community of seduction, Wayne Elise (Juggler) is a relative old-timer. He was the second person to begin teaching infield workshops way back in 2001, and many of his ideas are the underpinnings of the modern seduction movement. (He has since gone on to 'post-modern' seduction.) He has trained many of the top people in the field who have become popular trainers themselves.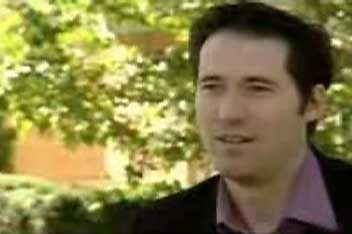 Wayne Elise aka Juggler

Wayne has worked a few other jobs besides teaching. If you know where to look you can still spot him occasionally performing on the streets as a busker and in the clubs as a comedian. A bit of a recluse, his advice and trained eye have also made him sought out by comedians, magicians and variety performers as a special director where he helps to reshape their acts to connect with audiences better, stronger and faster. Although he likes to be thought of as a regular guy, many who have met him consider him one of the world's most interesting conversationalists, and of course he is a master flirt.
Going by the moniker 'Juggler' he became involved in the seduction community in 2000 by typing up advice in his spare time onto seduction websites. These postings were often short (a result of his then nonexistent typing skills) and completely eye-opening.
A three page question might get a one line answer, 'Don't ask her so many questions,' 'Seduce them both,' 'Wear something red,' 'Combine compliments with commands.' A page-long Juggler post became a collector's item. It didn't take long until people wanted to learn 'Juggler Method' in person.
After taking a year and a half off Wayne returned to the seduction community in 2004 and is enjoying, once again, helping men improve their skills with women. He lives in Ann Arbor Michigan, likes 'cheesy' Barry Manilow music and travels way too much.
Wayne was mentioned in Neil Strauss's book "The Game", and currently runs Charisma Arts, teaching men how to become more successful in social interactions.
From a newspaper article about Wayne's appearance at the Cliff List Seminar in 2005:
"There's a big schism within the seduction community," says Wayne "Juggler" Elise, who started Charisma Sciences in Ann Arbour, Michigan, four yeas ago, and now has four employees. "You've got some NLP guys, others like [Toronto-native seduction guru] Mystery, who use 'can openers'- which are little stories they tell. I try the natural approach," meaning less of a reliance on special tricks and head games.
Elise says the typical guy becomes an adherent "after a breakup or after taking a girl out on three dates, spending lots of money on her and then being told she just wants to be friends."
It takes about three months to overcome bad habits, according to Elise. "The most common mistake is trying to be too safe, too conservative, caring too much about our success," he says. "Guys get too careful as each girl means too much to him." Elise also advises against button-downs and loafers. "I tell guys to dress a little crazier. Women see that and it lets them be crazy too, and express that part of themselves."
As in life, the searing pain of ego injury is a challenge. "Never take rejection personally," says Wayne Elise. "She's not reacting to your real person. She's reacting to her experience of being approached by every guy in the last 10 years."
And if all else fails: "Pretend you're Colin Farrell. He's so himself, he doesn't care about how people perceive him."
Get Wayne Elise's eBook
at Charisma Arts
For other related posts about Wayne Elise (Juggler) visit:
Wayne Elise wrote a chapter in Neil Strauss's book, "The Game: Penetrating the Secret Society of Pickup Artists". This blog is your number one resource of information about Neil Strauss and Wayne Elise.
Labels: wayne elise
posted by Donovan at 10:51 PM
Dating Advice for Men