11.05.2006
posted by Donovan at 7:04 PM
Hey guys.. check this out!
Here's a behind the scenes look at one of the top workshop companies in the community, something you rarely get to see.
Lance Mason (
PickUp 101
) is getting ready to release a new product called "Physical Confidence". It's about body language, self confidence, inner game, and kino.
During an interview about this new home study program, Lance said this is the product he's always wanted to make, but it has taken over 2 1/2 years, thousands of hours, and at least one previous version that he was too embarrassed about to ever sell.
It wasn't the material that was bad, it was the production quality. And according to Lance, the original Body Language DVD was just a nightmare to get from idea to finished product. Besides involving a girl he was dating at the time as the videographer, 2 hours of material was lost when the laptop hard drive went to the great electronics depot in the sky. PickUp 101 was a labor of love back then, so Lance didn't really have money to hire a real editor and actually tried to do it himself before realizing the production was doomed.
"I was so excited about this project until we had a screening for some of my workshop clients. The guys were brutally honest about the production quality, and in retrospect their honest comments still drive me to constantly improve my products. What amazed me was every one of them said they would buy it in spite of how it looked, but I realized we could never release it as a product."
To show what he's talking about, Lance released these shots from the old version and also sent some from the soon to be released product. Cool! You don't often to get a peek behind the curtains like this.
And this is a part of community history here, Lance's original Body Language DVD was filmed in November of 2004. For those of you with short memories, that's almost a year before Neil Strauss released "The Game".
In these screen shots you can see just how... ummm... rough around the edges Lance's first attempt at making a product was.
It's funny to see Lance speaking on camera for the first time. He get's the information across okay, but seems a little flat onscreen. His example student, Nate, was even funnier, he truly needed Lance's help (as an aside, Lance worked with this guy extensively and he went on to become an instructor. He even did demo's of some really tough sets on the Fearless First Impressions product. Hard to believe watching him in this video...)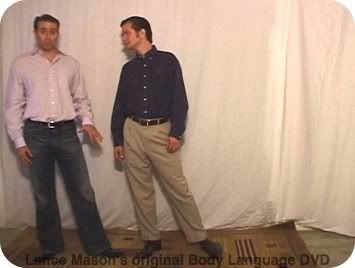 Lance Mason's Orginal Body Language DVD
Nice Curtains...
And this one. A girl Lance was dating helped film this thing (probably Lance's first mistake). Look at her sticking the other camera in the frame of the shot!!!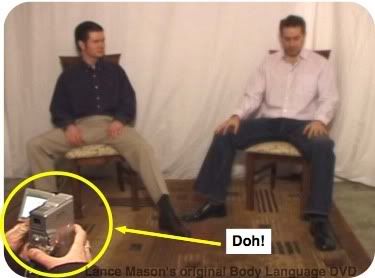 Lance Mason's Original Body Language DVD




Now That's Professional Camera Work...




One good thing, at least Lance was dating hot chicks, even if they aren't so good at videography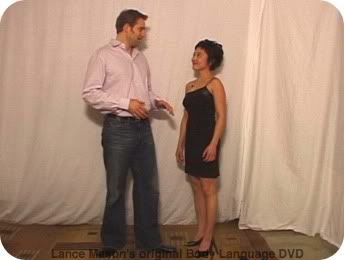 Lance Mason's PickUp 101
She Definitely Works Better In Front of the Camera
Funny thing is, as goofy as this original body language DVD is, it's still the best thing I've seen on how to quickly change your body language to radiate confidence with women.
Contrast then & now.... The new version was shot on location at Project San Francisco by a professional audio/video crew during a 2-day special topics workshop (The original was filmed in Lance's bedroom with sheets as a background). Over 30 men were in the audience (not just Lance's roommates snickering as they passed his room).
Also in the new version, Lance has 3 hot women who are front and center contributing to the content instead of being 'behind the scenes'.
Here are some shots from the soon to be released Physical Confidence body language program.
Lance Mason's Physical Confidence Program
Lance Makes A Point For The Guys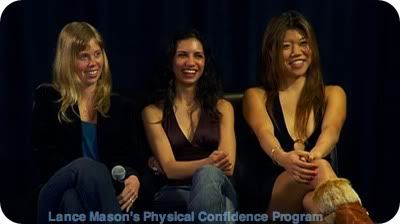 Lance Mason's Physical Confidence
Insight From The Lovely Ladies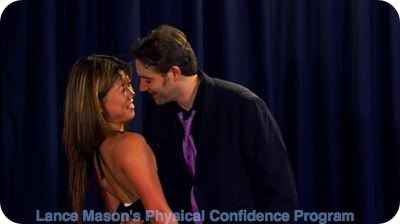 Lance Mason's Physical Confidence
The Reward For Having Good Body Language
Now the best part about all this is that Lance told me that he's agreed to release his grungy old ORIGINAL body language video along with his shiny new Physical Confidence program. He's ONLY doing this for the guys who pre-order the Physical Confidence program in it's pre-release before Thanksgiving.
I don't know about you... but I can't wait to get my hands on the newer edition...
posted by Donovan at 7:04 PM
Dating Advice for Men